Donnelly/Colt
Box 188
Hampton, CT
06247

(860) 455-9621



Can't find something you're looking for? Just ask, and we'll let you know if we have it or can get it.

Button: Hate
$2.00
HATE
(1.25" Button)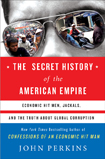 Audio Book on CD: The Secret History of the American Empire
$40.00 $35.00 On Sale!
ABCD-SHAE
Unabridged • 9 CDs • approx. 11 hours • Read by Jonathan Davis. The inside story of the corruption, cronyism and corporate manipulation behind the American Empire today.
• Click on Title for the rest of the description...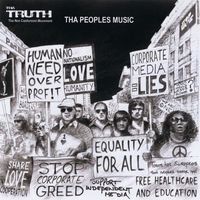 CD: The People's Music
$17.00 $12.00 On Sale!
CD-TT-PM
by political rap/hip-hop artist Tha Truth • 2008 • 19 tracks
"Tha Truth" is a conscious, political hip hop artist, poet and raptivist known around the Philadelphia area for battling imperialism, inequality, corruption and discrimination. He has performed in countless venues at concerts, colleges, demonstrations, conferences and benefits. This album was heavily influenced by Howard Zinn's classic best-selling book "A People's History of the United States (from 1492 to Present)" On this CD, Tha Truth sums up the suppressed real history of the U.S., alerting listeners to the most critical issues. Every track can be played in the classroom; there's no obscene, sexist, racist or homophobic language. The material is articulate, informed eloquent and inspiring.

• To listen to tracks from the CD, go to: www.myspace.com/thanonconformists

Through his complex, impressive rhyme patterns he describes how these issues go back through time, and offers specific ways to fix them. He takes on bigotry, poverty, pollution, corporate privatization of resources, workers' rights, U.S. health care, corporate media, military recruitment, the poverty draft, the death penalty, immigrant rights, the prison-industrial complex, U.S. foreign policy/empire, New Orleans recovery efforts, homophobia and so much more.
• Click on title for more info . . .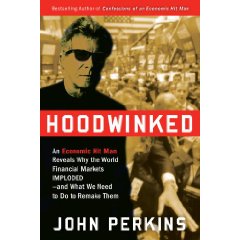 Book: Hoodwinked - An Economic Hit Man Reveals Why the World Financial Markets Imploded and What We Need Need To Do To Remake Them
$23.00 $17.25 On Sale!
BK-H
BK-H
Hardcover • 2009 • by John Perkins (author: Confessions of an Economic Hitman)
John Perkins has seen the signs of today's economic meltdown before. The subprime mortgage fiascos, the banking industry collapse, the rising tide of unemployment, the shuttering of small businesses across the landscape are all too familiar symptoms of a far greater disease. In his former life as an economic hit man, he was on the front lines both as an observer and a perpetrator of events, once confined only to the third world, that have now sent the United States—and in fact the entire planet—spiraling toward disaster.
• For more info click on the title of the book . . .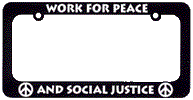 License Plate Frame: Work For Peace And Social Justice
$5.00
LPF-WPS
LAST 8 LEFT (to be discontinued when they've all sold) From our friends at the Committee Opposed to Militarism and the Draft (COMD) in San Diego comes this license plate frame with white lettering screenprinted on 95% Recycled durable black polystyrene. Union made in the U.S.
You can CUSTOM ORDER license plate frames with your own wording (minimum 100 all the same) at $1.95 each ($195.00 + $50 set-up) Choose from 25 imprint colors on Black, White, Grey, Royal Blue r Red frame color. Production time: 5 working days. Shipping weight for 100: 17 lbs. Shipping method: UPS Ground (100 in one carton) Made in N.Y.C. - Call us 860 455-9621 or email or TEXT to 860 428-4867 to place a custom order.



Small Labels: Peace Sign Wreath/set of 100
$12.95
SL-PSW-100
1.5" Round Paper Labels • 5 sheets of twenty labels per sheet (100 total)
Use on holiday cards and envelopes, as well as year-round. Hand them out at events, put on gift boxes, bags, postcards.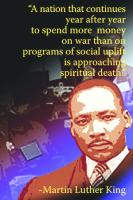 Postcard: "A Nation That Continues..." (M.L.K. Quote)
$0.95
PC-NTC
4" x 6" Postcard • union printed • 2013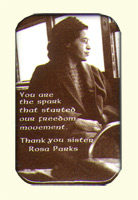 Magnet: You Are The Spark That Started Our Freedom Movement, Thank You Sister Rosa Parks
$4.00
"You Are The Spark That Started Our Freedom Movement. Thank You Sister Rosa Parks." Text is from the song "Thank You Sister Rosa" by the Neville Brothers (1988) • Donnelly/Colt, 1990 • 1.75" x 2.75", button with full magnetic backing, instread of safety pin backing. Photograph of Rosa Parks taken in 1956.
Rosa Parks was the inspiration for the Montgomery Bus Boycott when she refused to move tio the back of a city bus on December 1, 1955. The boycott lasted more than a year, ultimately changing the discriminatory law that required black bus riders to move to the back of the bus if a white rider wanted their seat. The Neville Brothers made a music video of their song in 2004 – you can watch it on YouTube by clicking here.

In his announcement of the end of the boycott, Martin Luther King said: "The moral arc of the universe is long but it bends towards justice." This quote from M.L.K. s also available as a bumpersticker (search S-MAU)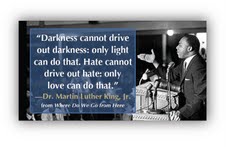 Button: "Darkness cannot drive out darkness: only light can do that. Hate cannot drive out hate: only love can do that." - Dr. Martin Luther King, Jr.
$5.00
1" x 2" • Quote from M.L.K. (1967) from his book "Where Do We Go From Here?" DCDO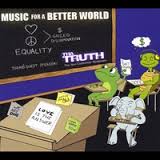 CD: Music For A Better World - Tha Truth
$17.00 $10.00 On Sale!
by political artist Tha Truth • 2013 • 22 tracks.
The latest of four music CDs we carry by political activist and singer/songwriter Tha Truth. We don't carry music , but his work stands out as so unique, so positive, and it's so hard-to-find elsewhere. You won't find it on YouTube. Incisive, insightful, poetic and unlike so much else in music. It's music distilled from the reality of life in these United States at this time in history. Tha Truth gets to the best in us, in the worst of times. The album title is what it's all about: Music for a better world. This artist deserves the recognition he doesn't get, because in the business of the music industry, challenging the way the world works is rarely well-received or even heard by very many. You can be one more catalyst for change by playing this music. Link to it on your blog, Facebook page or website; get it played on your local college, community or commercial radio station. Send the CD to a D.J. you know and like. Spread the word. It's music to make this world a better place. His best yet.
• Click on album title at the top to see the track listings.



Bumpersticker: If you want Peace work for Justice
$3.95
S-IYW
2.75" x 15"



Bumpersticker: Black Lives Matter
$2.25
S-BLM
3.75" x 7.5" screenprinted vinyl sticker



Paper Self-Stick Labels: Peace Sign Wreath
$2.95
EL-PSW
Self-stick Paper Labels • 1.5" Round • Digitally printed full color • 20 per sheet • Union printed • 2019
These stickers are perfect to put on envelopes for letters, holiday cards, postcards and other mailings. The same image as our 1.5" button (item PSW)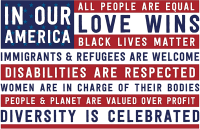 Poster: IN OUR AMERICA ALL PEOPLE ARE EQUAL LOVE WINS BLACK LIVES MATTER IMMIGRANTS & REFIUGEESARE WELCOME DISABILITIES ARE RESPECTED WOMEN ARE IN CHARGE OF THEIR BODIES PEOPLE & PLANET ARE VALUED OVER PROFIT DIVERSITY IS CELEBRATED
$10.00
P-IOA
12" x 18" • 100 Pound Posterboard Recycled Stock • In response to the 2016 election, a group of Portland (OR) women decided to support an era of activism, democracy and resistance. They call themselves Nasty Women Get Shit Done PDX. Also available as a Magnet ($5), Button ($3), Postcard (1.00) and corrugated plastic yard sign ($15)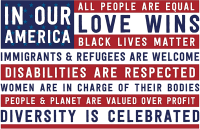 Postcard: IN OUR AMERICA ALL PEOPLE ARE EQUAL LOVE WINS BLACK LIVES MATTER IMMIGRANTS & REFUGEES ARE WELCOME DISABILITIES ARE RESPECTED WOMEN ARE IN CHARGE OF THEIR BODIES PEOPLE & PLANET ARE RESPECTED OVER PROFIT DIVERSITY IS CELEBRATED
$1.00
PC-IOA
4" x 6" Recycled cardstock • Union Printed • In response to the 2016 election, a group of Portland (OR) women decided to support an era of activism, democracy and resistance. They call themselves Nasty Women Get Shit Done PDX. Also available as a Magnet ($5), Button ($3), Poster ($10) and corrugated plastic yard sign ($15)



Button: Resist (b)
$3.00
R-rev
1.75" diameter • 2017 • Black background, white woodcut
code: R-rev



Small Labels: Peace Sign Wreath / set of ten
$2.50
SL-PSW-10 • 1.5" Round • ten per sheet.
Use these small labels on envelopes, cards, or stick them anywhere. We sell these at our cost. We also have these labels in stock in packs of 100. See item code: SL-PSW-100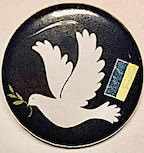 Button: Dove & Ukraine Flag
$3.00
D&UF
1.25" button • 2022 • hand-assembled, image of a dove with an olive branch in its beak with Ukraine flag behind it. Symbolic of the Ukraine people and their determination for sovereignty, peace, independence and freedom.



DVD: 1964
$20.00 $18.00 On Sale!
2014 • an American Experience production * 118 minutes
"Authoritative and convincing...1964 shows us there we are still feeling the impact of those events 50 years later." - San Fransico Chronicle
"You don't have to have lived through the time to appreciate 1964 and its thoughtful look at ideas that echo to this day." - Sacramento Bee
It was the year of the Beatles and the Civil Rights Act; of the Gulf of Tonkin incident and Barry Goldwater's Republican campaign for the presidency; the year of "Freedom Summer" and of the murder of three civil rights workers in Mississippi; the year that Americans learned smoking was bad for their health and Cassius Clay became Mohammed Ali; the year that cities across the country erupted in violence and Americans tried to make sense of the assassination of their president. It was the year that the Warren Commission released its Report o the Assassination of President Kennedy ten months after that national tragedy. It was that Fall on the University of California's Berkeley campus when the student-created Free Speech Movement was born in a defiant occupation of a campus building by hundreds of students from various political views. Based on "The Last Innocent Year: America in 1964", by award-winning journalist Jon Margolis, this film follows some of the most prominent figures of the time – Lyndon Johnson, Martin Luther King, Jr., Barry Goldwater, Betty Freidan - and bring out from the shadows the actions of ordinary Americans whose frustrations, ambitions, and anxieties began to turn the country onto a different course. It was a year of civil unrest, extremes and national polarization - and of the beginning of the changes that would shape the nation for the next half-century. This is an eloquently produced retrospective of that decisive, tumultuous year.
Subtitles: English SDH (Subtitles for Deaf and Hearing Impaired).
• Click on the title for reviews . . .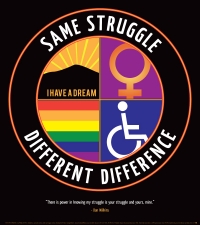 Poster: Same Struggle Different Difference
$14.00
16" x 18" Offset Lithographed [poster • 2014 • © Dan Wilkins/ SCW©2014
"There is power in knowing my struggle is your struggle and yours mine." –Dan Wilkins