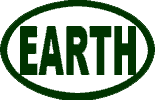 Bumpersticker: Earth--Oval
$2.25
S-EARTH
4" x 6" European style oval sticker used to identify one's country. This version is for the rest of us who identify as citizens of the world. A 21st century classic.



Bumpersticker: Give Earth a Chance
$2.25
S-GEAC
3.75" x 15" • art of one hand hold one leaf on left, and more hands and leaves joining in the images to the right. The images works with or without the wording "Give Earth A Chance." Ask for one Free copy of this sticker and we will send it with any order. Just write "Add one free S-GEAC sticker" in the "Ordering Instructions" or the "Comments" field at check out.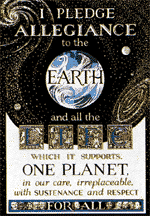 Poster: Pledge To The Earth
$20.00 $15.00 On Sale!
P-PLEDGE
Rare print: "I pledge allegiance to the Earth and all the life which it supports. One planet, in our care, irreplaceable, with sustenance and respect for all." • designed by Janina Lamb (Lamb and Lion Studio) • 18" x 24".
Also available as a 5" x 7" postcard (product code: PC-PLEDGE)



Button: No Nukes
$3.00
NNtree
(1" Button) Our first button design. This was the button that really began this whole catalogue. It became an international symbol for the anti-nuclear movement against both nuclear reactors and weapons worldwide, 37 yrears ago - all by word-of-mouth and no mainstream media promotion, and no World Wide Web.
For the rest of the story, click on the title . . .



Button: Vegetarian - Peace For All Who Live
$2.00
VEGE
(1.75") • Another version of the peace sign, for the dietarily peaceful (many great pacifists were vegetarians); it just makes sense karmicly, green leafy veggies, especially broccoli are good for you and help prevent cancer.
• Click on the button title for the short version of why. . .



Bumpersticker: We All Live Down Wind
$2.25
S-WALD
Red circle & slash over incinerator or industrial factory emitting toxic waste.



Button: Make Peace With Nature
$2.00
MPN
(1.25" Button) This upside-down peace symbol in the form of a tree is a timeless classic.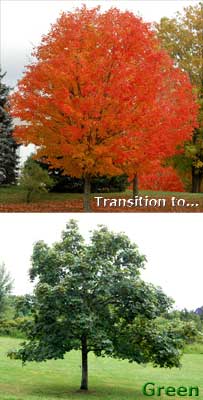 Poster: Transition to... Green
$6.00 $4.00 On Sale!
P-TTG
Click the poster to see a larger version of it.
• 8" x 17"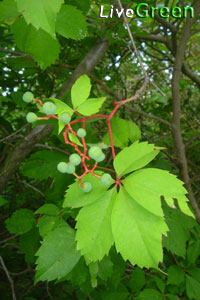 Poster: Live Green
$8.00 $5.00 On Sale!
P-LGL
Click the poster to see a larger version of it.
• 11" x 17"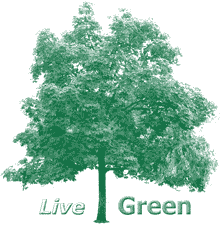 T-Shirt: Live Green
$24.00 $5.00 On Sale!
T-LG
100% Organically grown cotton, unbleached, natural color, grown & sewn in the U.S. (from family-owned grower, "S.O.S. From Texas")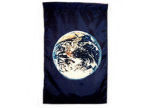 Banner: Earth Photograph from Space on vertical 2' x 3' Banner
$29.00
BANNER-2x3EF
Same image of earth as on the 2' x 3' Earth Flag, with the image rotated 90 degrees, so north is at the top of the banner. The banner has a sleve sewn along the top 2' horizontal length, to slide onto a diagonally mounted flagpole, or to slide a wooden dowel through for vertical display on a wall. This banner does not have brass grommets, which the 2' x 3' and 3' x 5' Earth Flags do have. Made in U.SA.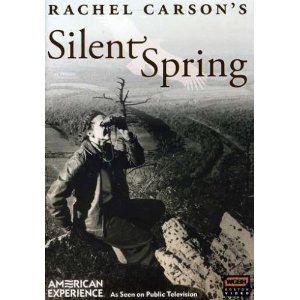 DVD: Rachel Carson's Silent Spring
$28.00 $24.00 On Sale!
DVD-RCSS
WGHB/The American Experience series • 2003 • 56 minutes
Rachel Carson is credited for being the inspiration and fore-runner of the environmental movement. Her story is well worth re-examining on this 40th anniversary of Earth Day, and 48th anniversary since the publication of her groundbreaking wake-up call of a book, "Silent Spring."
• Click on the title for more reviews . . .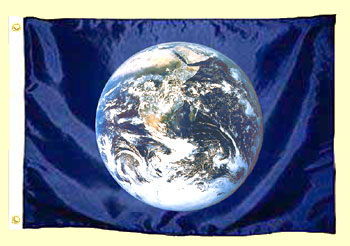 Flag: 3' x 5' Earth Flag
$45.00 $39.00 On Sale!
FLAG-3x5EF
This is the largest version of teh Eartn Flag we stock: 3' x 5' High-Quality, durable Flag with two brass grommets.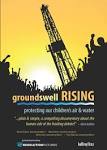 DVD" Groundswell Rising" Protecting Our Cildren's Air & Water
$30.00 $24.00 On Sale!
2014 • produced & directed by Renard Cohen • 52 & 70-minute versions included on disc.
Documents the opposition from both sides of the political spectrum to the ubiquitous practice of fracking for natural gas, and the health and environmental reasons behind it.
• GROUNDSWELL RISING gives voice to ordinary folks engaged in a David and Goliath struggle against Big Oil and Gas. We meet parents, scientists, doctors, farmers and individuals across the political spectrum decrying the energy extraction process known as fracking that puts profits over people. This provocative documentary tracks a grassroots movement exposing dangers to clean air, water, and civil rights. • Click on title for more information . . .