Donnelly/Colt
Box 188
Hampton, CT
06247

(860) 455-9621



Can't find something you're looking for? Just ask, and we'll let you know if we have it or can get it.

Small Labels: Peace Sign Wreath / set of ten
$2.50
SL-PSW-10 • 1.5" Round • ten per sheet.
Use these small labels on envelopes, cards, or stick them anywhere. We sell these at our cost. We also have these labels in stock in packs of 100. See item code: SL-PSW-100




Small Labels: Peace Sign Wreath/set of 100
$12.95
SL-PSW-100
1.5" Round Paper Labels • 5 sheets of twenty labels per sheet (100 total)
Use on holiday cards and envelopes, as well as year-round. Hand them out at events, put on gift boxes, bags, postcards.



Button: Pink Triangle with Fist
$2.00
TF
(1" Button)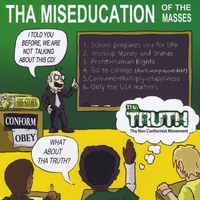 CD: The Mis-Education of the Masses
$17.00 $12.00 On Sale!
CD-TT-MOTM
CD0-TT-MOTM
by political rap/hip-hop artist Tha Truth • 2010 • 1 hour, 11.5 minutes
Tha Truth is a conscious/political underground hip hop artist and "rap-tivist" (rapper-activist) known around the Philadelphia area for battling inequality, poverty, discrimination, and injustice. He has performed in countless venues at concerts, colleges, demonstrations, conferences, and benefits. Since 2006 Tha Truth has released three critically acclaimed underground political rap albums that attack the forces that maintain the status quo.
mix: truth, revolution, struggle, the red pill from the matrix, V for Vendetta, fightclub, the spirits of Bob Marley, Howard Zinn, and George Carlin, then add the Simpsons, the Boondocks, and fighting the system, and cook for 60 minutes.
"Tha Mis-Education of the Masses" was released on May 19th 2010 (Malcolm X's birthday). Tha Truth chose this release date purposely to honor freedom fighters Malcolm X and also Harvey Milk (whose birthday is May 22nd). This CD expands on the themes of equality and justice as his previous projects, while adding substantial doses of sarcastic wit, mind bending and humorous metaphors, and a variety of diversified beats comprised from Middle Eastern live percussion/drums, native flutes, acoustic and rock guitar, reggaeton, and a lot of the lost arts of DJ scratching and mixing.
• Click on the title for more information . . .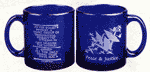 Peace and Justice Cobalt Blue Glass Mug
$15.00
GM-PJ
13 oz. Cobalt Blue Glass Mug.
A silkscreened imprint on one side says "Peace and Justice" with a graphic of cranes flying, a symbol of peace. The other side carries a Margaret Mead quote "Never doubt that a small group of thoughtful committed citizens can change the world, indeed it's the only thing that ever has."

Union made in the U.S.A. and dishwasher safe, it's a perfect gift for activists, colleagues, and teachers. Only 3 left. The union manufacturer in U.S. went out of business due to the 99% China-dominated market for ceramic and glass mugs. • We pack it in a 4" x 4" x 4" corrugated cardboard box in a larger, padded box with any other items you order at the same time.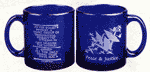 Mug & Your Choice of 12 Buttons and/or Bumperstickers: FILL-A-MUG
$24.00
Mug: FILL-A-MUG
Our U.S.-made 13 oz. Cobalt Blue Glass Mug with the Margaret Mead quote on one side, and the words "Peace & Justice" on the other side.
YOU choose any 12 buttons and and/or bumperstickers: Write the product codes or names of each item in the "Ordering Instructions" or the "Customer Comments" field. We will price the buttons you select at $1 each – HALF the regular $2 price. You save $12. Your buttons will be packed in the mug, and the mug will be put in a corrugated cardboard box. To ensure against breakage, we double-pack the boxed mug in a box with recycled paper, foam "peanuts" or air pillows, all re-used from packing in cartons sent to us from other suppliers. The mug and buttons are all made in the U.S.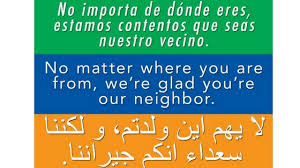 Yard Sign: No matter where you are from, we're glad you're our neighbor
$15.00
YS-NMW
Yard sign screen printed on both sides on 4 mil corrugated plastic • 2017
18" x 24" • Wire "H' stake included • Union printed in the U.S.
This welcoming message is in Spanish, English and Arabic.
• NOTE: Shipping cost is higher than the amount automatically estimated by the website ordering calculator, because of the size of sign. We charge only the actual shipping cost to your location.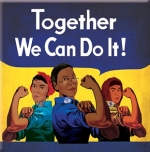 Button: Together We Can Do It
$3.50
TWCDI
2" x 2" Square • 2018 • Union made
Inspired by the original World War II poster featuring a white woman, the symbolic "Rosie The Riveter." This version is more ethnically inclusive for our times.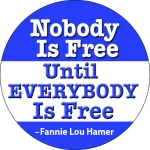 Button: Nobody Is Free Until EVERYBODY Is Free - Fannie Lou Hamer
$2.50
NIF
1.75" Round Button • Union Made




Bumpersticker: If you want Peace work for Justice
$3.95
S-IYW
2.75" x 15"



Bumpersticker: Recovering Tele-Holic; Beware the Media-Trivia Complex
$2.25
S-RTB



Button: Solidarity With Ukraine
$2.50 $2.00 On Sale!
SWU
1.5" union-made button • 2022 • also available as a 3.75" x 7.5" bumpersticker.