Bumpersticker: "In a time of universal deceit, telling the truth is a revolutionary act" George Orwell
$2.25
S-OQ
3" x 11.5" • George Orwell quote




Bumpersticker: "FEAR NOT. ORGANIZE. RESIST"
$2.25 $1.00 On Sale!
S-FNOR



Bumpersticker: 2% of U.S. Owns 90% of the Wealth. What's your share?
$3.00 $1.00 On Sale!
S-2%
3" x 9" Bumpersticker



Bumpersticker: "The moral arc of the universe is long, but it bends toward justice." - M.L.K.
$2.25 $0.75 On Sale!
S-MAJ
3" x 11.5" bumpersticker • Martin Luther King quote;
One free sticker with every order IF you ask for one in the Ordering Instructions field.



Bumpersticker: Don't Mourn, Organize
$2.25 $1.00 On Sale!
S-DMO
3.75" x 11.5" Bumpersticker • Joe Hill's famous last words



Bumpersticker: If you think education is expensive try Ignorance
$2.25 $1.00 On Sale!
S-EE



Bumpersticker: "Never doubt that a small group of thoughtful, comitted citizens can change the world; indeed it's the only thing that ever has." -Margaret Mead
$2.25
S-MMQ



Bumpersticker: Unity Thru Diversity
$2.25 $1.00 On Sale!
S-UTD



Bumpersticker: Honor Diversity
$2.25 $1.00 On Sale!
S-HD
7 color screenprinted bumpersticker © 1993 * union-made.



Small Vinyl Sticker: LGBTQ Safe Space
$1.25 $0.50 On Sale!
SVS-LGBTQSS
3" Round Silkscreen printed waterproof vinyl sticker, with 5 year colorfast durability
• On the peel-off backing paper there is an explanation of what an "LGBTQ Safe Space" is. (Lesbian, Gay, Bisexual, Transgender, Queer)



Bumpersticker: Don't Legislate Hate Fight the Right
$2.25
S-DLH



Bumpersticker: Value All Families
$2.25
S-VAF



Bumpersticker: Stop Hate Crimes Honor Diversity
$2.25 $0.75 On Sale!
S-SHC



Bumpersticker: No one is free when others are oppressed
$2.25
S-NOF



Bumpersticker: End Sweatshops
$2.25
S-ES



Bumpersticker: Fair Trade NOT "Free" Trade
$2.25
S-FTN



Bumpersticker: Never underestimate the power of stupid people in large groups
$2.25
S-NUPS
3" x 11.5" New version is black and white text on white and red background.



Bumpersticker: Against Abortion Have A Vasectomy
$2.25
S-AAHAV



Bumpersticker: Against Abortion Promote Family Planning
$2.25
S-AAPF



Small Vinyl Sticker: To End Male Violence Men Must Take Intiative
$1.00
SVS-EMV



SVS-Three Inch Rainbow Bar
$1.25
SVS-3INCHRAINBAR
1.5" x 3" screenprinted 7 color weatherproof vinyl sticker. Fade-resistant.



Bumpersticker: War Costs - Lives; Health; Education; Environment; Economy; Respect
$2.25
S-WC



Bumpersticker: Killing one Person is Murder; Killing 100,000 is Foreign Policy
$2.25 $1.00 On Sale!
S-KO



Small Vinyl Sticker: No More "Standing Tall" on the Backs of Others
$1.00 $0.25 On Sale!
SVS-NMST



Bumpersticker: Another Man Against Violence Against Women
$2.25
S-AMAV



Bumpersticker: Question Authority
$2.25
S-QA



Bumpersticker: Abolish Racism
$2.25 $1.00 On Sale!
S-AR



Bumpersticker: People Who Abuse Animals Rarely Stop There
$2.25
S-PWAA


Bumpersticker: Stop the War
$2.25 $0.50 On Sale!
S-STW
3" x 11.5" Get it on sale for the next undeclared (or declared) war!



Bumpersticker: Support Our Soldiers; Bring Them Home Alive; End the War Now
$2.25 $0.50 On Sale!
S-SOS
3.75" x 15" Bumpersticker



Bumpersticker: "There is no flag large enough to cover the shame of killing innocent people." - Howard Zinn
$2.25
S-ZQ



Bumpersticker: These Colors Don't Run The World
$2.25 $0.75 On Sale!
S-TCDR
An honest re-working of an old pro-war cliche: the addition of the last two words brings truth to a powerful myth. 3" x 11.5"



Bumpersticker: (stop) Homophobia
$2.25
S-STOPSIGNHOMO
Stop Sign Sticker Case History: Hundreds of stop signs in Berkeley and Oakland, California became political statements overnight, when in 1983 a small crew of local activists took their campaign to the streets. Fade-Proof, Vinyl Stickers. Warning: This civic sign improvement is considered illegal by some authorities.



Bumpersticker: Dare to Speak Truth to Power
$2.25
S-DTST


Bumpersticker: What Part Of "No" Don't You Understand?
$2.25
S-WPON



Bumpersticker: Your Taxes still pay for torture, rape and murder. Close the S.O.A.
$2.25
S-YT



Bumpersticker: You Reap Just What You Sow
$2.25
S-YRJ
3.75 x 7.5" REFLECTIVE bumpersticker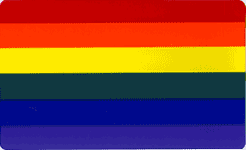 Bumpersticker: Rainbow colors
$2.25 $1.00 On Sale!
S-RF
3-1/8" x 5-9/16" die-cut vinyl sticker with rounded corners, screenprinted on durable 4 mil vinyl sticker. With the added feature that this is a hybrid product: both a sticker, and/or it can be mailed as a postcard decal, since the back is a matte finish paper (easy to write on in pen or pencil) that is set up like the back of a post card. Uses a postcard stamp for postage if you mail it. We call it a Post-Cal, since it's both a postcard and a decal. Give or mail them to friends. Overall sticker/card size is 3-5/8" x 6" Union made in U.S., like 99% of our products.


Bumpersticker: Honor the Dead, Heal the Wounded, End the War
$2.25
S-HTD



Bumpersticker: If There is No Struggle There is No Progress
$2.25
S-NSNP



Bumpersticker: War is Not the Answer
$2.25 $2.50 On Sale!
S-WINA
This is a REFLECTIVE bumpersticker: headlights at night make it show up brilliantly. Most stickers are not reflective because it is much more expensive to use the reflective base material.
• Click on title for some anecdotal evidence...



Bumpersticker: National Health Care Now
$2.25 $1.00 On Sale!
S-NHCN



Bumpersticker: How Many Lives per Gallon? www.democracynow.org
$2.25
S-HML
The website given is to the outstanding one hour news broadcast every Monday through Friday, "Democracy Now!" Go to the website and see how you can see, hear or read it every weekday to get the news you won't find on mainstream media.



Envelope Label: Teach Peace
$2.50
EL-TP
Sheet of 12 envelope labels. Each oval label is 3/4" x 1.5". Fits on business cards, personal checks, envelopes, convention badges, name tags, postcards, notecards, notebooks, cellphones, etc. A good item to offer people who visit your table or booth at an event. We've handed out tens of thousands of individual labels at conferences over the years. These few remaining sheets are the last of a 100,000 print run from over 20 years ago. We no longer can afford to print thousands at a time and take years to sell them in small quantities. If you want these (or any other one-color message/design of this same size. shape label on sheets of a dozen. The minimum we can print is 1,000 83 sheets of a dozen per sheet or on a roll of 1,000) for $$215 + postage (shipping weight: 1 pound) The price is for any one ink color (for text or design or background, with white text and/or design).



Bumpersticker: (stop) Rape
$2.25
S-STOPSIGNRAPE
A sticker 4" x 18" sticker that just has the word "RAPE' in large white capital letters on a red background. One alleged purpose of this four-letter word sticker is to compliment the word "STOP" on any stop sign. "stop." Stop Sign Sticker Case History: Legend has it that hundreds of stop signs in Berkeley and Oakland, California became political statements overnight, when in 1983 a small crew of local activists took their campaign to the streets. Some can still be seen today, a quarter-century later! Fade-proof, union-printed vinyl stickers.



Bumpersticker: The Death Penalty is Dead Wrong
$2.25
S-DPDW



Small Vinyl Sticker: Together Proud and Strong
$5.00 $4.00 On Sale!
SVS-TPS
3" square sticker with seven brilliant fluorescent colors screenprinted on it. Out-of-print. Limited quantity left.



Bumpersticker: We ARE the 99%
$2.25 $0.75 On Sale!
S-99%
3.75" x 7.5"
You can also order these custom printed in higher quantities, starting at 250 in any size or colors at much lower cost. Prices on our Custom Printing Button page. (click on yellow "Customprinting" tab at top of this page to get there)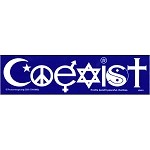 Bumpersticker: Coexist
$4.00 $3.00 On Sale!
3" x 11" • white design on royal blue



Bumpersticker: We The People Not We The Corporations
$2.25
S-WTP
The Supreme Court considers corporations to have the same rights as human beings, and they've given them that status for over a century. But people have a limited lifespan, while corporations go on indefinitely. Challenging and overturning this false and wrong legal status for corporations is one of the overriding issues f our time.



Magnetic Bumpersticker Backing
$4.00
Magnetic Bumpersticker Backing
Add magnetic backing any bumpersticker you get from now on. The sticker adheres onto the magnet and the magnet mounts on your car. When it's on the vehicle it isn't doesn't look different than any other sticker. Now you can quickly remove bumper stickers and switch them to different vehicles. Display different stickers at different times for different reasons. Take stickers off any time you want. As easy to change as wearing a button. This adds a whole new dimension to displaying your views. It also lets you put them on a rental vehicle, so you can be as opinionated in a rened car as in your own. You can even tag that U-Haul truck you rent for a day.
• Our 3 & 3/4" x 15" heavy duty (.035 mil thick) flexible magnetic material will hold any size sticker or decal.
• The material can be easily trimmed to any size or shape with scissors. Sturdy grip will not come off at any speed.
Now change your stickers easier than you change your oil! We recommend you take the magnetic stickers off before going through a car wash; the high-pressure water could blow them off.
NOTE: It's also a good idea to remove magnetic-backed bumperstickers every 3 to 4 weeks because dust and dirt can build up along the edge and work its way under the magnetic material. Temperature extremes of hot and cold can make the magnetic material difficult to remove if left on a vehicle for a longer length of time than a month.



Bumpersticker: If you want Peace work for Justice
$3.95
S-IYW
2.75" x 15"



Sticker: Hate Free Zone
$2.00 $1.50 On Sale!
5" diameter full color vinyl sticker.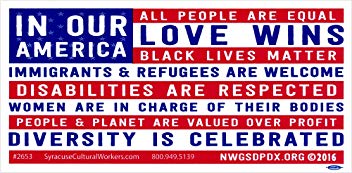 Bumpersticker: In Our America All People Are Equal, Love Wins, Black LivesMatter, Immigrants & Refugees are Welcome, Disabilities are Respected, Women re in charge of their bodies, People & Planet Are Valued Over Profit, Diversity Is Celebrated
$3.50
S-IOA
4" x 8" Bumpersticker • 2019 • a reduced version of the poplar yard sign created by NWGSDPDX.ORG (Nasty Women Getting Shit Dine Portland.Org) © 2016.



Small Vinyl Sticker: STAND WITH UKRAINE
$1.00
2.5" x 3.5" Bright blue & yellow Screenprinted waterproof vinyl sticker for phones, laptops, tablets, water bottles, anywhere • 2022 • BULK PRICING of .50¢ each for 25 or more. $12.50 for fifty; $25 for 100; $45 for 200; $55 for 250. The website doe not re-calculate to Bulk pricing. Just write "BULK PRICE for SVS-SWU" in the Ordering Instructions" or "Customer Comments" field and we will adjust the cost of this item and charge you the correct bulk price.



Bumpersticker: When you tell the truth, make 'em laugh or they'll kill you. – Oscar Wilde
$2.25
S-WYT
3:" x 11.5"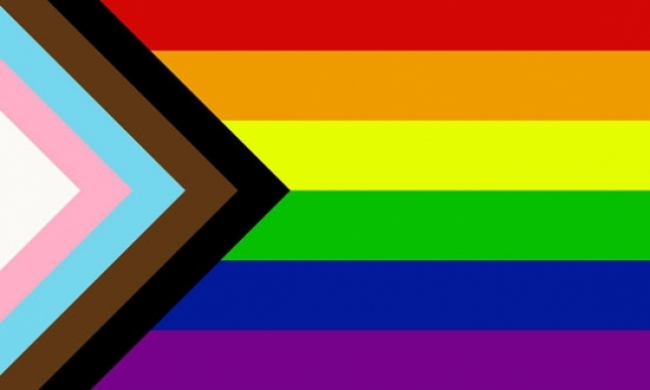 Progress Pride bumpersticker
$3.00 $2.00 On Sale!
S-PPF
3.75" x 7.5" Full Color Bumpersticker • Designed in 2018 by Daniel Quasar, the "Progress" Flag design places 5 half sized stripes in an arrow shape representing trans and non-binary individuals, marginalized People Of Color communities, as well as those living with AIDS over the left side of the traditional LGBTQ 6 color Rainbow Flag which was designed in 1978.

You can personalize this sticker by applying black vinyl letters over the horizontal bands of 6 rainbow colors, to sellout your club, organization, business, nonprofit, two-letter state initials, personal initials, team, or hashtag. Those self-adhesive black vinyl letters are sold in sets at stationery and art supplying craft stores. Recommended height of letters: one inch to two inch.

We can also custom print these stickers with your added text in black ink superimposed over the horizontal bands of color. Minimum quantity for custom printing is 125. • Use our Full Color High-Resolution Bumpersticker customprinting prices for the 3.75" x 7.5" size bumperstickers. • Price breaks are at: 250, 500, 1,000, 2,500, 5,000, 10,000 and 15,000. • Production Time: 5 working days (weekends & U.S. holidays excluded) • Shipping Time: Varies with distance of delivery and level of service (Priority Mail, Parcel Post, UPS Ground, etc.)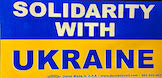 Bumpersticker: SOLIDARITY WITH UKRAINE
$2.00
3.75" x 7.5" Screenprinted vinyl bumpersticker • Union printed • 2022 • Available wholesale at .85¢ each (minimum quantity 25 for wholesale)



Bumpersticker: Protect Democracy
$2.25
3" x 5.75" screen printed bumpersticker. The United States democratic republic is threatened by the rise of authoritarianism, oligarchy, and ultimately, fascism now more than in any other time in our nearly 250 years as a sovereign country. Many on the right want to foment a civil war. Publicity-seekers like Marjorie Taylor Green (R. - GA) inanely called for a "national divorce" of red states from blue states, with no actual plan as to how to do that, only a self-aggrandizing soundbite. Show your support for protecting our imperiled yet resilient democracy with this sticker. Wholesale (minimum quantity of 100 of ANY assortment of stickers AND/OR buttons at $1.00 each + shipping.



Bumpersticker: What Would Pete Do?
$2.50
S-WWPD
3" x 11.5 • Vinyl Bumpersticker • concept courtesy of Veterans Fellowhsip of Reconciliaion • this version designed by Donnelly/Colt 2019.
Pete seeger (1919-2014) lived 94 years as a folk singer, banjo player, environmental and peace activist in Beacon, New York. From Wikipedia: Pete Seeger (May 3, 1919 – January 27, 2014) was an American folk singer and social activist. A fixture on nationwide radio in the 1940s, he also had a string of hit records during the early 1950s as a member of the Weavers, most notably their recording of Lead Belly's "Goodnight, Irene", which topped the charts for 13 weeks in 1950. Members of the Weavers were blacklisted during the 1950s McCarthy Era. In the 1960s, Seeger re-emerged on the public scene as a prominent singer of protest music in support of international disarmament, civil rights, counterculture, and environmental causes.
A prolific songwriter, his best-known songs include "Where Have All the Flowers Gone?" (with Joe Hickerson), "If I Had a Hammer (The Hammer Song)" (with Lee Hays of the Weavers), and "Turn! Turn! Turn!", which have been recorded by many artists both in and outside the folk revival movement. "Flowers" was a hit recording for the Kingston Trio (1962); Marlene Dietrich, who recorded it in English, German and French (1962); and Johnny Rivers (1965). "If I Had a Hammer" was a hit for Peter, Paul and Mary (1962) and Trini Lopez (1963) while the Byrds had a number one hit with "Turn! Turn! Turn!" in 1965.
Seeger was one of the folk singers responsible for popularizing the spiritual "We Shall Overcome" (also recorded by Joan Baez and many other singer-activists) that became the acknowledged anthem of the Civil Rights Movement, soon after folk singer and activist Guy Carawan introduced it at the founding meeting of the Student Nonviolent Coordinating Committee (SNCC) in 1960. In the PBS American Masters episode "Pete Seeger: The Power of Song", Seeger said it was he who changed the lyric from the traditional "We will overcome" to the more singable "We shall overcome".