Quick-Order Section
(No images)
Print-Out Order Form
(for mail orders by post)
Donnelly/Colt
Box 188
Hampton, CT
06247

(860) 455-9621



Can't find something you're looking for? Just ask, and we'll let you know if we have it or can get it.
Saturday, May 25.


Donnelly/Colt Progressive Resources is a family-owned and operated mailorder business that has been designing and distributing union-made progressive materials promoting peace, social and environmental justice and human rights since 1975. We also offer a full range of custom printing services, prompt, inexpensive, quality union printing. Call (860) 455-9621 or email us at info@ donnellycolt.com. You can also Text us at 860 428-4867. Since 2009 we generate our electricity from solar photovoltaic panels that power our home and business.

We custom print buttons, stickers, posters, yard signs, banners for you to promote your cause, organization, event, movement, business in your neighborhood, community, city, state or at national events. We can custom print buttons, screen printed vinyl stickers, or paper labels – union made – on a 2 day or 1 day rush, if needed. Twenty other products can also be custom printed (click on "Custom Printing" yellow tab above).



Poster: Never Doubt
$18.00 $12.00 On Sale!
P-MMQ
"Never doubt that a small group of thoughtful committed citizens can change the world. Indeed, it's the only thing that ever has." Margaret Mead Quote (Donnelly/Colt ©1995). 11"x17". 67 pound vellum stock.



Poster: Audre Lorde
$18.00 $12.00 On Sale!
P-AL
Stunning, colorized photograph of poet Audre Lorde, printed on heavy poster stock (23 x 23") with the quote: "When I dare to be powerful, to use my strength in the service of my vision, then it becomes less and less important whether I am afraid." - Audre Lorde (1934-1992)
In her own words, she was a "Black, lesbian, mother, warrior poet" as well as an acivist, teacher, cancer survivor, author of 17 books of prose and poetry. Audre Lorde is still giving strength, guidance, and inspiration over 2 decades since her passing. (Syracuse Cultural Workers, 1994) 23"x23".



Button: No Ban No Wall
$2.25
NBNW
1.5" diameter • Hand assembled



Poster: Hope Has Two Beautiful Daughters; their names are anger and courage.
$15.00 $12.00 On Sale!
P-HOPE
11" x 17" • art by Janna Schneider • Pink, blue and white on black
P-HOPE
"Hope has two beautiful daughters; their names are Anger and Courage.
Anger at the way things are, and Courage to see that they do not remain as they are." – St. Augustine (354-430 A.D.)



Poster: Together We Can Do It!
$15.00
24" x 18" • Offset Lithographed Union Printed poster • 2016
This celebration of women's power and the strength of diversity, by Innosanto Nagara, is a descendant of the classic Rosie the Riveter poster. Also available as a postcard, P-TWC
© 2015 Design Action Collective / Innosanto Nagara
Item code: P-TWC



Button: Resist (b)
$2.25
R-rev
1.75" diameter • 2017 • Black background, white woodcut
code: R-rev



Button: "Darkness cannot drive out darkness: only light can do that. Hate cannot drive out hate: only love can do that." - Dr. Martin Luther King, Jr.
$3.00
1" x 2" • Quote from M.L.K. (1967) from his book "Where Do We Go From Here?" DCDO



Button: Black Lives Matter
$2.00
BLM
1.5" round hand-assembled button




Button: I'm looking forward to looking back on all this
$2.25
ILF
1.25" diameter • Han -assembled



Bumpersticker: RESIST
$2.25
S-RESIST
3" x 9" Bumpersticker
Inspired by the Greenpeace banner drop from a crane near the White House, Washington, D.C. on January 26, 2017.
Here's what it looked like.



Banner: Rainbow Peace Flag String
$49.00 $45.00 On Sale!
BNR-9RPF
9 hand-batiked panels, each measuring 11" wide by 9" long, made of 100% rayon, sewn together on a cord. Each banner is an individually made art piece, not printed by machines. The designer, artist Amara Wahaba Karuna, works for fair trade relations with small family shops where each banner is batiked, hemmed and sewn onto the cord. The vibrant colors are made using permanent dyes. This vibrantly beautiful, brightly colored banner is over 10 feet long. "Peace" is written in 7 languages: English, Arabic, Chinese, Sansrit, Russian, Latin and Hebrew. Ideal for display outdoors or indoors, at home, on holiday, at events, vigils, demonstrations, services.



Peace and Justice Cobalt Blue Glass Mug
$20.00 $14.00 On Sale!
GM-PJ
13 oz. Cobalt Blue Glass Mug.
A silkscreened imprint on one side says "Peace and Justice" with a graphic of cranes flying, a symbol of peace. The other side carries a Margaret Mead quote "Never doubt that a small group of thoughtful committed citizens can change the world, indeed it's the only thing that ever has."

Union made in the U.S.A. and dishwasher safe, it's a perfect gift for the struggling activist, the part-time cytivist, the engaged citizen, the retired activist, or the radical, progressive friend, colleague, teacher, mentor or partner who drinks coffee, tea or any other beverage. As a gift, you can fill it with some buttons and stickers, too!
• We pack it in a 4" x 4" x 4" corrugated cardboard box in a larger, padded box with any other items you order at the same time.
• Click on product title for a customer's unsolicited comments about this item




Poster: Towards a Just Peace: Feed, Teach, House, Employ
$15.00 $12.00 On Sale!
P-TAJP
P-TAJP
11" x 17" • 2010/1985 • 80 pound cover stock
One of our best-selling posters. From apartheid-era South Africa, it was created for the anti-apartheid End Conscription Campaign. Also available as a T-Shirt (T-TAJP)



Poster: Hate Free Zone
$7.00
P-HFZ
Art by Amy Bartell • 2010 • 8" x 10" • 80 pound matte finish photo stock.



Bumpersticker: "The moral arc of the universe is long, but it bends toward justice." --Martin Luther King Jr.
$2.25 $1.00 On Sale!
S-MAJ
3" x 11.5" bumpersticker • Martin Luther King quote;
One free sticker with every order IF you ask for one in the Ordering Instructions field.



Button: Value All Families
$2.00
VAF
1.5" square



Poster: Thank You Sister Rosa Parks
$12.00 $9.00 On Sale!
P-RP
"You Are The Spark That Started Our Freedom Movement. Thank You Sister Rosa Parks." Text is from the song "Thank You Sister Rosa" by the Neville Brothers (1988) • Donnelly/Colt, 1990 • 11" x 17", union printed on recycled paper. Photograph of Rosa Parks taken in 1956.
Rosa Parks initiated the Montgomery Bus Boycott when she refused to move tio the back of a city bus on December 1, 1955. The boycott lasted more than one year, , ultimately changing the discriminatory law that required black bus riders to move to the back of the bus if a white rider wanted their seat.



Poster: If You Can Walk...
$15.00
P-IYCW
"If You Can Walk You Can Dance / If You Can Talk You Can Sing" A saying from Zimbabwe (Burning Spear Publications). Printed on heavy (14 point) ivory poster stock, 11"x17"



Postcard: Black Lives Matter
$1.25 $1.00 On Sale!
Black & White • photograph: Andre Wagner • design: Aaron Yeboah 2014
"Black Lives Matter:" became a rallying cry which echoed across the country in 2014 in the aftermath of the police killings of Eric Garner (Staten Island, N.Y.) and Michael Brown (Ferguson, MO) and then the lack of accountability of the U.S. judicial system.
Also available as a button, code BLM, and as a sticker, code S-BLM



Button: Hate Free Zone
$2.25
HFZ
1.25" diameter hand-assembled button.



Poster: Bread & Roses
$12.00
P-B&R
11" x 17" digital print • Design by Ricardo Levins Morales
The strike was won March 14, 1912
Rose Schneiderman, pioneering labor organizer and feminist, coined the title phrase. It was later associated with the important and successful Lawrence, Mass. textile strike of 1912, and made widely popular through the James Oppenheim song.



Poster: Keep Calm & Carry On. NO THANKS. I'd Rather Raise Hell & Change The World
$12.00
P-KC
11" x 17" poster • 67 pound cover stock • union printed • 2013 • also available as a postcard (PC-KC)



Button: "NO" to Trump (Red Circle & Slash over "TRUMP")
$1.00
1.5" Button • 2016 • The international "No" symbol, a red circle & slash over the word "Trump" says it all, and is understood in many languages. Essential to wear when you travel outside of the U.S., to let people in other countries know you don't support Trump. Also thisis just as important to wear here in the U.S., so others know they're not alone in their disapproval of this petulant, self-obsessed tyrant.
You can order these in larger quntities. Use the Cistom Button Printing prucing for quantities of 250 for $140 ; 500 for $265; 1,000 for $380. UPS Shippig is additional on the higher quantities.



Button: Woman's Place is in the Resistance
$2.00
1.5" hand assembled button.
WPR



T-Shirt: Drooker Trumpets
$18.00
T-TVM
New Yok street artist Eric Drooker's scratchboard illustration, dramatically printed in opaque white on jet black T-shirt, has an intense graphic power and visual impact.



Button: Celebrate Diversity
$2.25
CD
1" x 2" Rectangular Button • design by Donnelly/Colt © 1990
Our consistent best seller since 1990.
Also available as a bumpersticker, fridge magnet and now a magnet-backed button to wear on clothing (without a pin).



Poster: Welcome
$15.00
P-WELCOME
Accordion Poster • 4" x 35" • 2012
Each of the seven 4" x 5" WELCOME panels contains a beautiful letter filled-in with graphics from a previously published Syracuse Cultural Workers product, and a progressive saying which begins with the panel's letter. This inspirational poster will welcome people to your home, office, place of worship, classroom or any other location you want to have awarm, inviting "Welcome message on display. It can also be used as a booklet/gift for welcoming rituals.
Folded, it comes with a strng through a hole at the top to hang it.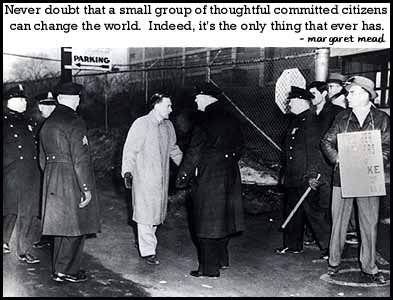 James Donnelly (Kate's father, 1917-1986) negotiating
with police as vice-president of his local United Rubber
Workers union, on strike in West Haven, CT in 1951.
• We now have a Quick-Order Section without images so that you can find what you're looking for more easily if you have a slow Internet connection.
• We've put together a collection of our favorite progressive web sites. Be sure to check them out, and let us know if there are any great sites we're missing!

• Customer Comments we've received over the years.
To subscribe to our occasional (6 times a year) email to receive news about new and featured products and special deals, enter your email address below and click Subscribe.
To unsubscribe, enter your email address below and click "unsubscribe".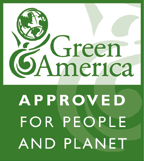 Back to top of page.